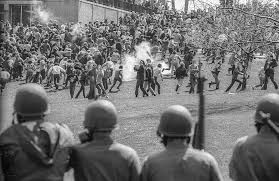 Tin soldiers and Nixon coming
          We're finally on our own
          This summer I hear the drumming
          Four dead in Ohio
Perhaps no other song encapsulated the tumultuous times of that late spring of 1970 than Neil Young's opening verse to 'Ohio'. Nationwide protests on college campuses against the United States' participation in the Vietnam War culminated in this shooting at Kent State. Young would later be quoted as saying, "probably the biggest lesson ever learned at an American place of learning". 
Equally uprooting at that time was concern for the environment, which was reeling from misuse and abuse, in the form of pollution, oil spills, and very little, if any, controls in place to curb its spreading. Protests focused on environmental ignorance, and from many of the same college campuses mentioned above, Earth Day was born on April 22, 1970 as the genesis of the modern environmental movement. 
From the Earth Day website: The first Earth Day launched a wave of action, including the passage of landmark environmental laws in the United States. The Clean Air, Clean Water and Endangered Species Acts were created in response to the first Earth Day, as well as the creation of the Environmental Protection Agency (EPA). Many countries soon adopted similar laws. 
"Despite that amazing success and decades of progress, we find ourselves facing an even more dire, almost existential, set of global environmental challenges, from loss of biodiversity to climate change to plastic pollution, that call for action at all levels of government," said Denis Hayes, the organizer of the first Earth Day and Earth Day Network's Board Chair Emeritus.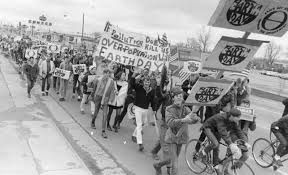 In 1970, Earth Day related protests / marches across the U.S. included some 20 million persons, or roughly 10% of the population at that time. Today, the Earth Day Network mobilizes more than 1 billion people globally (~13%), with thousands of partner networks in 190 countries. Its mission is to build, educate, and make active, the largest environmental movement to drive transformative change across the planet. 
Enter COVID-19…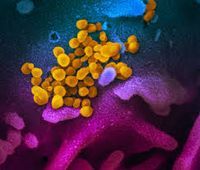 For its 50th anniversary on April 22, 2020, the Earth Day Network had planned to mobilize its 1 billion activists in local marches, as well as community earth restoration projects, all over the globe. Sadly, many of these gatherings have been postponed to the fall of 2020, or canceled altogether. Yet, when your plan A stalls, it's time to launch plan B, or C, etc. 
In recognition of safe social distancing mandated by coronavirus, the Earth Day Network is taking its initiatives digitally, in perhaps the world's largest online event to date. If interested in this movement, visit Earth Challenge 2020. 
Although we cannot gather as groups at this time, if even for projects out-of-doors, please remember one important fact: As individuals / consumers of goods and services, our voice, vote, and common collective action makes a huge difference. We all wield tremendous power and influence, so if inclined to participate, don't let today's lockdown and/or isolation prevent you from doing so. 
For example, the KSM public performance plans to present the 35th anniversary of the Amazonas '85 Expedition, my first journey into the tropical rainforests of Brazil, were also canceled. As plan B, I converted my analog films of songs from the Echoes Within The Forest project, to digital. Thereafter, I built a KSM YouTube channel to help continue its awareness, via social media and proper social distancing. To reiterate, when best laid plans stall, a bit of creativity and desire to find another path can go a long way. 
In closing, and in an unintended benefit of COVID-19, pollution, smog, waterways, et al, have all seen improvement, as a result of a lack of economic activity, because there are far less individuals scurrying about the planet. Yet, when we finally curb this pandemic's stranglehold, and we will, the earth will require even more attention going forward. So please, let your voice be heard, and your efforts become visible.