When the media is littered with all of the negative press on corporate wrongdoers (for instance, the recent United Airlines passenger debacle), it's sometimes hard to find the diamonds in the rough. Your local Starbucks should receive a bit of love, for its marketing savvy, but more importantly, its environmental stewardship.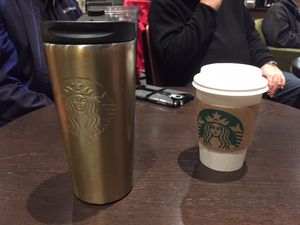 Every January, the coffee behemoth rings in the New Year with its recommended resolution of 'conservation'. They sell a reusable cup for ~$40, which entitles the purchaser to a
cup-o-Joe
daily, for the entire month. If on average, a Grande cup of coffee is ~$2.00, and you drink one daily, there's a good chance you'll spend up to $60 for the month. The reusable cup saves you $20.
Boom! Roasted.
What's also smart about this promo is that it keeps you coming back into the store, so your potential spend is far greater than your initial $40 investment.
Can you say,
Morning Bun?
In subsequent months, and contingent upon keeping up with your caffeine habit, two additional benefits occur: 1) You save an extra $.10 on a fill when you use your new cup; and 2) You save a paper cup from being discarded 30 seconds after your last sip. The former savings is obvious, while the latter reduces eventual landfill space, as well as keeps more trees in the ground, not at a paper mill for future cup production.
More information on its
Recycling and Reducing Waste
initiative may be found
here
.
Further, and when in its stores, Starbucks can also promote its line of coffees, where many (if not all) are grown using sustainable farming practices. Not only is it a primary goal to protect the environment in the coffee and/or tea growing process, Starbucks takes stock in the economic, social and financial development, of the farming communities in which it sources said coffees and teas.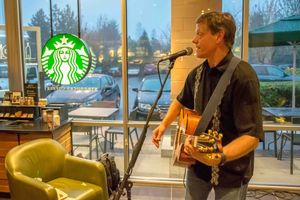 Its support of ethical farming community development may be found
here
.
What you might not know as well, is some stores stateside support musical artists from its local communities. So as you're enjoying a Caramel Macchiato and/or Oolong Tea in your reusable cup, while reading up on all the responsible practices the 'Bucks is engaged in globally, you can also enjoy the sounds of Americana, folk, or perhaps even a Calypso band.
Again... Boom! Roasted.