Sting
, first as the front man for
The Police
, and for the past twenty years, as a solo artist. The accomplishments are undeniably successful: five multi-platinum studio albums with
The Police
, twice that many as a soloist, the sold-out world tours, the Grammys, over one hundred million records sold, and counting, and through it all, his trademark unwavering bravado. 
But what may not be apparent in the aforementioned givens is the strategy and intellect behind his career, and the lesser-known facts that make him more than a pop icon. Here's what I find intriguing about Mr. Sumner: 
Differentiation
. Classically trained in jazz and big band orchestrations,
Sting
first played guitar as a youth. Yet the British pop/rock landscape was littered with guitar virtuosos like Page, Clapton and Beck, and he didn't want to be just another guitar hero (reference the
Anders Lundquist article
in the Singing Bassist). So as he developed a penchant for vocals, he focused upon the bass as his instrument instead for two reasons: To control both the top end melody line of the song, and the bottom end groove for the band. Consider if you will a compass standing upright, whereby north is the melody of the tune, and south its bass line. All other instrumentation make up the layers in-between, east-to-west, but its the polar ends that control both the music lyrically and its tempo respectively.
Sting
found the bass root to be most powerful, which he exploited masterfully as a 3-piece in
The Police
. Personally, I tried this technique on the lead in to 
The Record Man
, although I didn't sing while playing the bass part, which is difficult to do.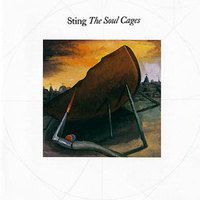 Storytelling
. Despite dominating pop/rock radio from the late '70s into the 21
st
century, I think his best work during the period was
The Soul Cages
, released in 1991. Yes, it did have its Grammy for Best Rock Song, but much of the album was not commercially accepted, nor radio friendly. Introspective and melancholy, I think it his most prolific work about the shipbuilding profession of his grandfather, and the life of his father in a seafaring town with few opportunities to transcend its social and economic shackles. Each to their own. But to me, it showed the breadth and depth of
Sting
as a singer-songwriter storyteller, and an ability to pull verses from those dark places we all have within. 
Eco-Warrior
. It was while on his world tours with
The Police
in the early eighties that he first became outspoken about human rights violations,supporting  
Amnesty International
along side the likes of Bono and Peter Gabriel.
Sting
also shared a concern for the environment, and those that steward it, particularly indigenous peoples in tropical rain forested areas. Along with wife, Trudie Styler,
Sting
founded the 
Rainforest Fund
 in 1989, a non-profit supporting 
rainforest communities and the persons whom make their homes and living within. This organization has brought awareness to the importance of tropical forests on the earth's ecosystem, along with preservation of indigenous lands, for more than a quarter century. And although he doesn't have an album specifically made of
rainforest music
, he does make lyrical references to the importance for preservation throughout much of his catalog.
Parenthood
. So what do you think he'll do with his reported $300M net worth? Well, according to an
article by Geordie Greig
for the DailyMail UK, not give it to his children.
Sting
plans to spend it instead, to support his various business / philanthropic interests. It's not that he doesn't love his kids; he just doesn't want them to ride his coattails to fortunes and fame, rather learning how to earn a living without dad's influence.
Sting
and wife believe that trust funds can be burdensome for kids, for which I concur. It robs them of drive and motivation, and an ability to learn to earn. He went on to say that should he ever be approached by one of his children in need, he would surely oblige. But to date, none of his three sons or three daughters has approached him in such a predicament. 
Sting
. So the rock star that brought us the stadium anthem sing-alongs,
Roxanne
and
Every Breath You Take
, has many lesser-known admirable sides to his credit, not merely the coolest stage name still in the business. 
We all have witnessed the vast and varied musical career of Gordon Sumner, better known as