In celebration of Earth Day, it's 50th, I'm reposting a review by Kris Larsen of the album, Echoes Within The Forest. It's a long read, but it captures the essence of my '85 journey throughout Brazil, and why rainforest conservation is so important for us all. Thanks, Kris!
ViniVitiVinyl, a DJ Klar production, presents: 
Album Review #6 – Kevin Schrandt – Echoes Within the Forest - 1988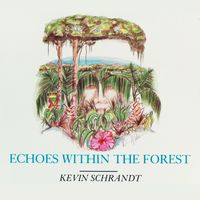 Just in time for Earth Day 2020 comes the re-release of Echoes Within the Forest, a passionate musical conservancy project, produced and launched nearly 35 years ago. With climate change in the middle of today's political spotlight, Kevin Schrandt's early commitment to the environment, conservation and natural preservation solidifies his leadership position in this important area. His preferred medium for supporting this cause, specifically and more personally in the Amazon Basin, is through that which he knows best – his music. 
Kevin first visited the Amazon in the mid-Eighties with a team of like-minded environmental activists he had met in Boulder, CO to document the complex life, and impending decline, of the world's largest circulatory system; the tropical rainforests of the Amazon River Basin in Brazil. A source of life that ultimately affects people, plants and animals as well as commerce, economies and politics far beyond the South American continent – Kevin sought to better understand and share what he learned about this rapidly changing environmental ecosystem and its effects on our world. Armed with cameras, recording instruments, guitar and inquisitive minds, Kevin and his team began their journey of documenting and recording the sights, sounds and experiences of this incredibly mysterious ecosystem.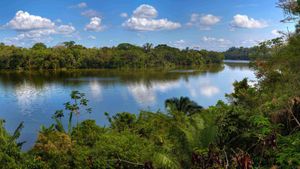 Echoes Within the Forest, like the Amazon itself, is a rich, varied and energetic album that brings together songs of many different styles. As one glides through this musical estuary, the influences of Pink Floyd, Steely Dan, Yes, the Stones, Marley and Zeppelin, among others, lend themselves to a wonderful collection of music that ultimately can be described as World Music – a nod to Kevin's objective of elevating his cause to one that is global. The bouncy, beachy and even happy 'So Won't You Come to Rio?' is the album's opening song, inviting the listener to join him as he frolics in the waves (amongst beers and bikinis) of Brazil's world-famous beaches. Despite the levity of the song it became clear to me that this would be the jumping-off point to the seriousness of his project. 
'To the Waves' is a big pop ballad that brightly tells the story of laboring policy and half-hearted ideas "crashing around". 'Ominous Day' then launches into a trance-like bongo beat supported by cautionary lyrics of uncertainty and concern about the future. Just when we are feeling a bit down, we are ushered into the beautifully melodic 'Flight of The Peregrine'. It's as if we went around a bend in the river and were greeted by rays of morning sunlight and dew-kissed leaves. Clean, refreshing, hopeful. 
'Keepers of The Forest' tells the story of the responsibility bestowed upon all of us, past and present, to care for this precious habitat. 'Cry for The Hunted' blasts out big and tall guitar riffs and dares us to 'stand up and see' and realize that we have so much to learn (and do). And what might be considered the centerpiece of this album, 'Amazon' lays down a thoughtful reckoning, a 'come to Jesus' moment before it's too late.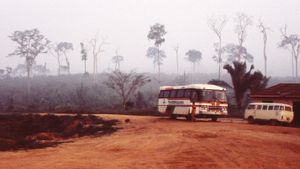 Further into the album we are offered a glimpse of hope with the uplifting 'The Calm Before the Storm', a carefully blended acoustic guitar, flute and wooden percussion medley gently guided by vocal streams. This flows right into Big River, a heavy ballad about a journey along the river of life. It's a story of birth, life and death depending where one chooses to disembark. 
The final songs on the album return us to 'The Sands Of Copacabana' for a bit of reflection about the modern world before sending us forward (today as when first written nearly 35 years ago) with 'It Changes By The Day', a beautiful piano piece, reminding us again that as the days go by, we need to challenge ourselves to do our best to respect, preserve and conserve our earth. As Kevin rightfully writes, the earth changes by the day, but it's up to us to manage change in a way that doesn't lead to destruction and disappearance of the beauty and necessary resources around us. 
As I mentioned earlier, this is a collection of very different styles of songs that demonstrate Kevin's diverse musical skills, his writing talents and his unwavering commitment to this cause and the environment in general.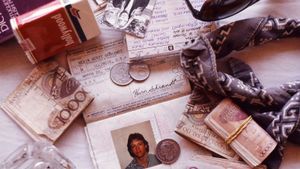 After listening to Echoes, what occurs to me is that, despite the complexity of his music, everything is blended with and bound by the natural sounds of the Amazon Kevin recorded - birds, tree frogs, lizards, insects, animals, and yes, even its indigenous peoples, as well as the sounds of man-made change and global expansion (riverboats, tractors, machinery and more). In the end, it is they who are the true stars (or villains) of this album. Listen. Think. Act. And hope this album is not the only way to experience the rich sounds of the Amazon before you have the opportunity to experience it yourself.

Production note: Reinforcing Kevin's early commitment to carbon footprint reduction efforts, this album was deliberately produced digitally, in CD format only instead of vinyl, much to the chagrin of ViniVitiVinyl, to avoid use of oil-based materials.