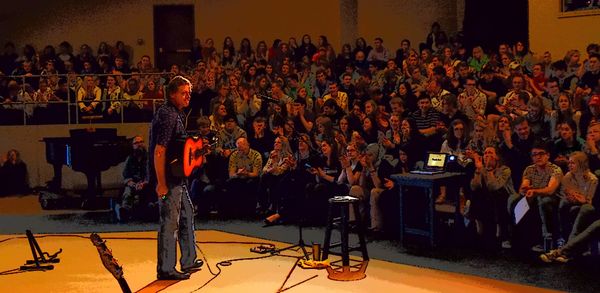 This past April, I had the pleasure of performing for my alma mater High School, Colorado Academy (CA), in southwest Denver, CO. As one of the top independent schools in the State, Kindergarten through 12th grade, CA has a multi-faceted curriculum that challenges each student to maximize their potential in academics, athletics and the arts. As a result, it was the perfect environment in which to test market an entertaining, yet educational performance of
Echoes Within The Forest
, entitled
A Treasure In Jeopardy
.
The 30-minute multimedia show,
A Treasure In Jeopardy
, combined visuals and video with song, and shared elements of nostalgia, fact, education and performance in its presentation. The primary goal of the show was to see that if entertained, students may be more apt to absorb and/or become interested in complex subject matter, such as the deforestation of the Amazonian rainforest in Brazil.. The latter encompassed topics from natural resource depletion to biodiversity; deforestation and its reasons; the role and plight of indigenous peoples; dams and energy from the Amazon river; and overall, the long term consequences of this exploitation on the planet. The secondary goal was to encourage students to act, as in 'get involved'. Presented on
Earth Day
, another objective was to impress upon students the importance of becoming stewards of the earth each and every day, not just once a year.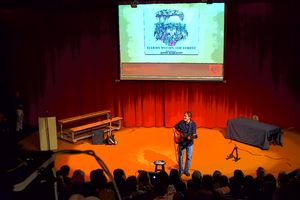 A Treasure In Jeopardy was presented to two of the three schools (Upper and Lower) on the CA campus, to more than 500 students. Perhaps not altogether surprising, the best inquiries and questions came from the Lower school grades, Kindergarten through 5th grade. Despite the obvious, Did you see a spider? and Did you get bit by a snake?, they had some really great insights, such as: (4th grader) Doesn't the government know that cutting down trees will make it difficult to breath? Or, (2nd grader) How many tress do we need to plant to help? It's this kind of inquisition that we can only hope will embody our youth, in order to make the right decisions for our future, when they're in a position to do so.
In retrospect, fielding those questions was the best part of the performance, for it showed the students had listened, and they were concerned to know more. Mission accomplished.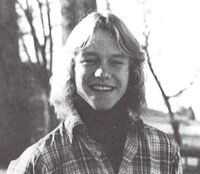 In closing and for posterity sake, my senior picture shows the head of hair I wish I could still sport today. C'est la vie... And yes, they did have color film back then. Our school just couldn't afford it for the yearbook!
P.S. Get involved!